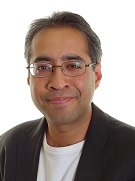 Dr Ian Barkataki
Professional Title: Clinical Psychologist
Qualifications: DClinPsy., Ph.D, BSc.(Hons)
Clinic location: Willow Brook Clinic, Bradley Stoke
Background
Dr Ian Barkataki is a dual Clinical Psychologist and Research Psychologist. He received his PhD in neuropsychology from the Institute of Psychiatry, University of London in 2005 and his Doctorate in Clinical Psychology from the University of Surrey in 2008. Ian is an experienced clinician having worked across a range of NHS services including: eating disorders; older adult services; adult community mental health services and inpatient wards. He has published several research papers and contributed to a range of magazines, journals and textbooks.
Ian is also a former clinical trainer, having worked as a course tutor at the Oxford Institute of Clinical Psychology training. In addition to his own clinical practice, Ian is currently clinical lead for a students' health service which provides help for students with a range of complex psychological difficulties.
Ian is registered with the Health and Care Professionals Council (HCPC, reg. PYL22469) and chartered with the British Psychological Society (ref. 216670).
Areas of Specialist Experience
Ian has worked with people experiencing a broad range of psychological difficulties including anxiety, OCD, phobias and depression as well as difficulties encountered in relationships with others. Ian has specialist experience working with clients with a diagnosis of a Personality Disorders or an Eating Disorder. Ian also has an interest in working with issues relating to race and immigrant culture; this may involve complicated family dynamics, boundaries, shame and cultural conflicts.
Therapeutic Approach
Ian's approach to therapy is to blend scientific, evidence based practice with an approachable and relatable style. Therapeutically, he is integrative, with his main theoretical approach being Cognitive Behavioural Therapy with heavy influence from systemic practice. However, he believes that the most important part of therapy is trust, openness and authenticity with clients.